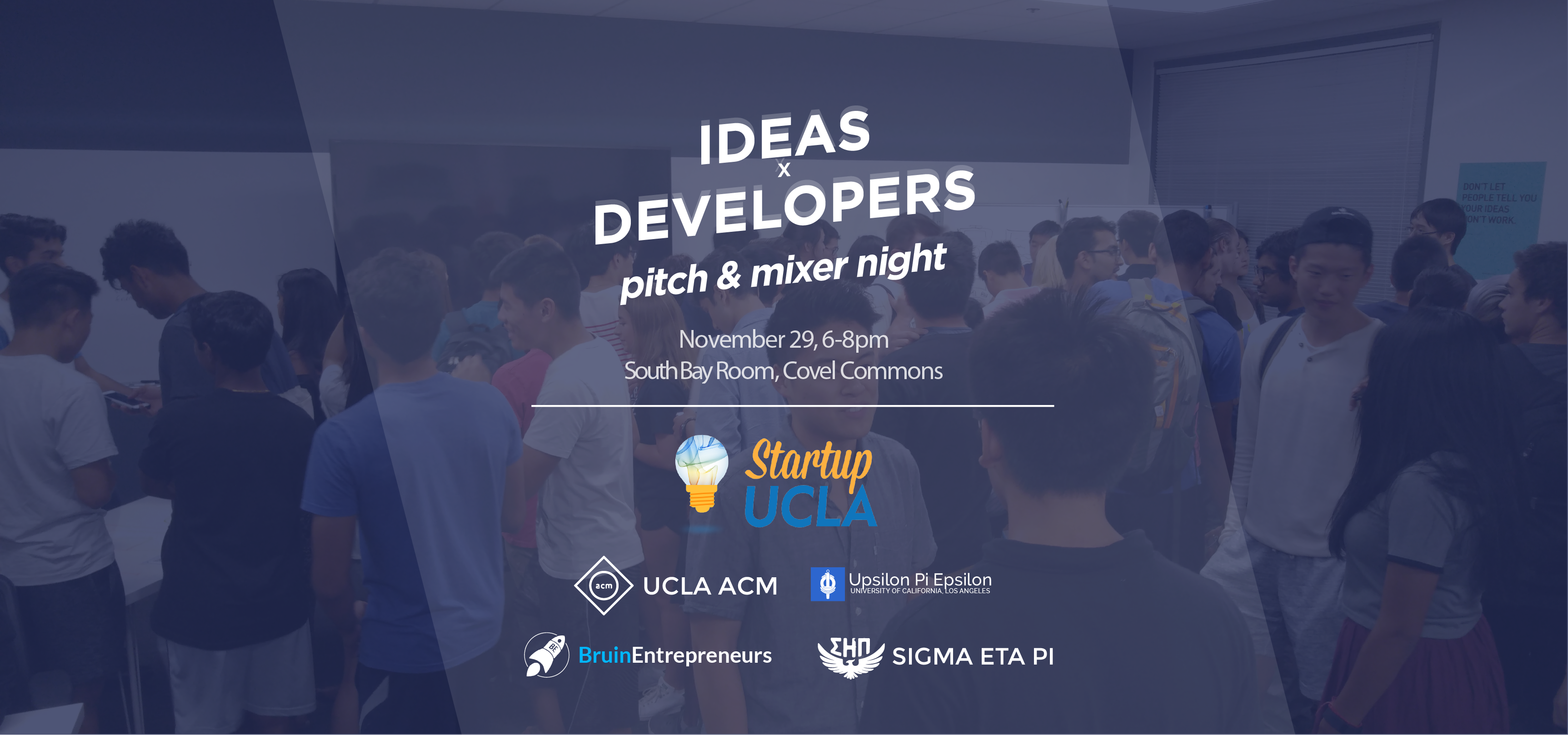 Ideas x Developers: Pitch & Mixer Night
Are you a UCLA student looking for a technical co-founder, lead engineer, freelancer, intern, etc. to join you in developing your idea? Or are you a current UCLA student studying CS, CS&E, EECE, Applied Mathematics, etc. or with a programming background interested in joining the development of an idea at its earliest stages? If so, this event is for you.
On Wednesday, November 29, at 6:00 pm in the South Bay Room of Covel Commons, Startup UCLA and student orgs UPE, ACM, Sigma Eta Pi, and Bruin Entrepreneurs are bringing students with ideas and student developers together for a pitch and mixer. In the first hour, students with an idea for a startup (or startup itself) will each give a 60 second pitch to the audience of student developers. Immediately following the pitches will be a mixer held in the Startup UCLA office (Covel Common 203) from 7:00 – 8:00 pm in which the student devs and those that pitched will have the opportunity to mix and meet one another, learn more about each other, and discuss working together if so inclined.
Refreshments will be served at the mixer.
---
This event is open only to developers and those pitching at the event. All others will not be admitted. Registration via Eventbrite required to attend.
Developers: Register via Eventbrite.
Pitchers: Students interested in pitching must both apply via this form and register via Eventbrite by November 26th, 11:59pm. Applying does not guarantee the opportunity to pitch at or attend the event. 
---
Thank you to our partners UPE, ACM, Sigma Eta Pi, and Bruin Entrepreneurs.
---
---
---