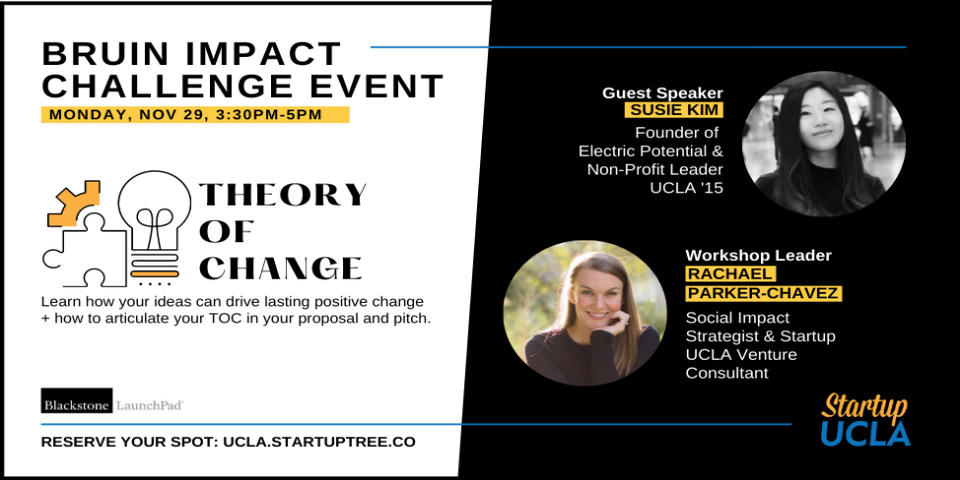 Bruin Impact Challenge Event: Theory of Change
Join us for Bruin Impact Challenge Events to hear from leaders in social impact, get support developing your Challenge proposal and pitch, and meet like-minded students working on similar things!
📍 Location UPDATE: All workshops will now be held online via Zoom only!
📝  Event Agenda
Guest Speaker – Short Talk or Q&A
Hands-On Workshop
Networking
🎤  Guest Speaker: Hear from Founder and Chief of Product+Ops at Electric Potential, Susie Kim, about building an organization on a mission to catalyze Gen Z to become agents of social change in the forms of policymakers, policy funders, and advocacy leaders and her mission to drive changes that improve the standards of living, working, and learning across the globe.
💼   Workshop: The goal of every social impact idea – whether it's an idea for a business, a creative project, a giving strategy or an advocacy initiative – should be lasting positive change. You want your idea to make a difference. In this interactive workshop, led by Social Impact Strategist and Startup UCLA Venture Consultant, Rachael Parker-Chavez,
you'll learn one of the most widely-used frameworks for ensuring you make a positive social impact, how to apply it to your idea and how to best articulate your Theory of Change your pitch and proposal.
Register for this Bruin Impact Challenge Event, taking place on Monday, Nov. 29th 3:30PM – 5PM, HERE!
AND Be sure to register for the other two Bruin Impact Challenge Events HERE!
---
---