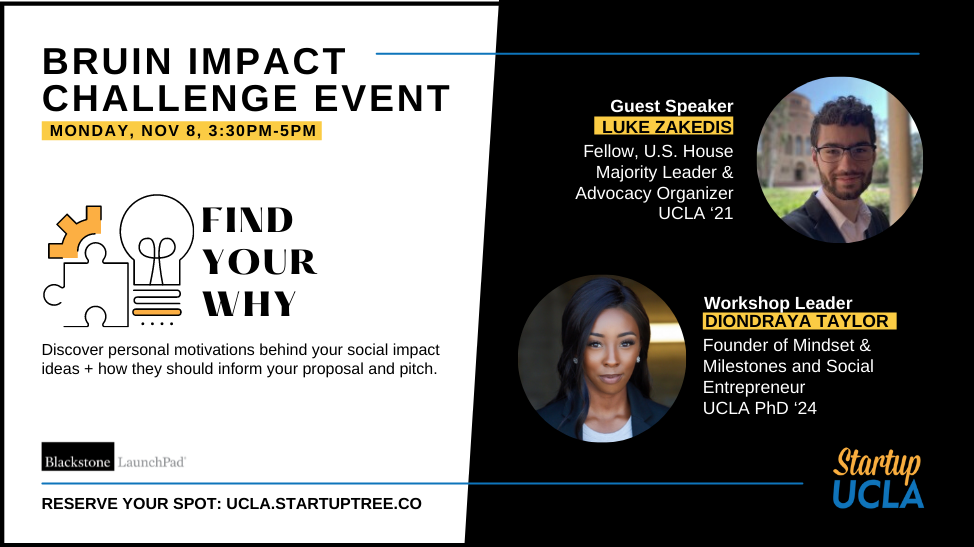 Bruin Impact Challenge Event: Find Your Why
Join us for the Bruin Impact Challenge Events to hear from leaders in social impact, get support developing your Challenge proposal and pitch, and meet like-minded students working on similar things!
📍 Location UPDATE: All workshops will now be held online via Zoom only!
📝  Event Agenda
Guest Speaker – Short Talk or Q&A
Hands-On Workshop
Networking
🎤  Guest Speaker: Hear from Luke Zakedis, Digital Communications Fellow for US House Majority Leader Steny Hoyer, on how to work for things you believe in, leverage creativity for advocacy and mobilize communities for the greater good.
💼   Workshop: In this workshop, led by Diondraya Taylor, Founder of Mindset & Milestones and current UCLA PhD student, attendees will work through their personal motivations and how to channel those in a way that allows them to use their time wisely. Especially in a place like UCLA where there are an endless number of ways to spend their time, this workshop will help students to think about how and why they want to focus their attention on social impact. Understanding your personal motivations will help you articulate your "why" behind your social impact idea in your proposal and pitch.
Register for this Bruin Impact Challenge Event, taking place on Monday, Nov. 8th 3:30PM – 5PM, HERE!
AND be sure to register for the other two Bruin Impact Challenge Events HERE!
---
---