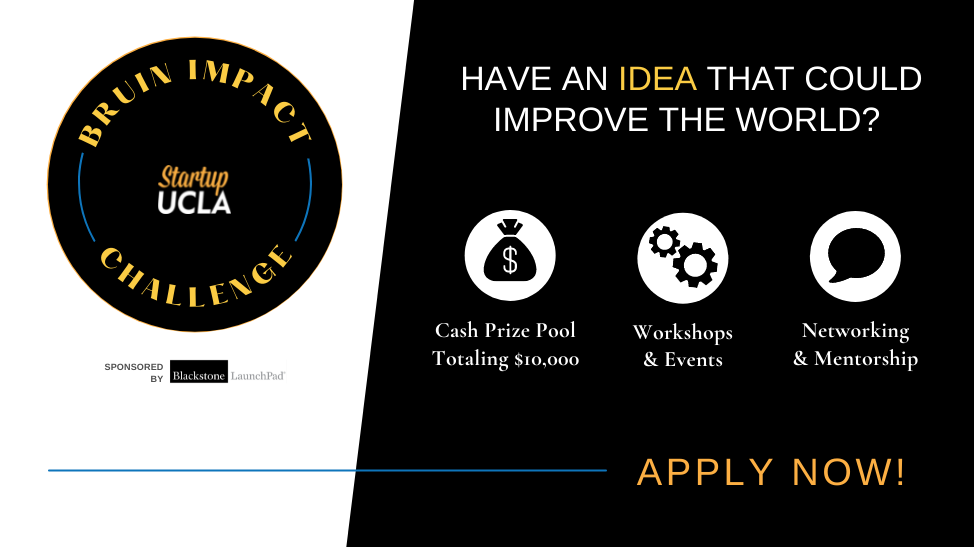 Startup UCLA's Bruin Impact Challenge
Have an idea to create social impact?  We want to hear it! 
The inaugural Bruin Impact Challenge invites students to cultivate early-stage ideas that drive positive social and environmental impact. During the fall and winter quarters, students will move through three selection rounds, including a final pitch showcase. Apply to get resources, networking opportunities, and a chance to win from a prize pool of $10,000. Just for IDEAS!
✍   Process
Round One – Applications: Apply to determine your eligibility and choose one of four tracks that best describes your idea.
Round Two – Proposals: Submit a project proposal with more details about your idea, including predetermined criteria given to participants in round one. A team of judges will select finalists from each track to continue on to the final round.
Round Three – Pitches: Pitch your idea to a live audience and judges. Winners will be selected to receive recognition and cash prizes.
🛤   Tracks
Social Ventures (non-profit organizations, non-profit or for-profit social enterprises)
Arts & Media (art installations, media productions, musical creations, etc.)
Advocacy & Organizing (values campaigns, policy engagement events, community convenings, etc.)
Strategic Giving (fundraising initiatives, volunteer programs, skilled giving events, etc.)
✅   Eligibility
Open to all currently enrolled UCLA undergraduate or graduate students.
Non-students are allowed to join as team members with at least one qualifying UCLA student.
Submissions must be an early-stage idea (not developed prior to 9/1/21) that will produce a measurable positive impact.
Each student or team must meet with a Startup UCLA Venture Consultant before 12/5/21.
Each UCLA student must have a Startup Tree profile to participate.
📚  Resources 
All participants who move into round two will be eligible to attend a series of workshops and events to connect with like-minded peers, get support building a sound proposal, and learn the critical elements for building social impact projects. Participants moving into round three will be invited to mentor and peer review sessions, pitch workshop and practice, and the final pitch showcase.
📆  Key Dates & Deadlines
Monday, Oct 4: Application Opens (applications will be accepted on a rolling basis until proposals are due on 12/5/21)
Nov 8, 15, 29: Workshops
Sunday, Dec 5: Proposals Due
Friday, Dec 17 Proposal Selections/Finalists Announced
Jan/Feb: Workshops & Review Sessions for Finalists
Mar: Bruin Impact Challenge Pitch Showcase
Mar: Winners Announced
💸  Prizes
Cash prizes totaling up to $10,000 will be awarded after the pitch showcase to help winning teams propel their solutions further. Certain restrictions may apply.
❓ FAQs
Is this only for business ideas? No! Although Startup UCLA is an entrepreneurial hub, the Bruin Impact Challenge is about using a variety of approaches to social challenges. If you have a business idea, you can participate in the 'Social Ventures' track but you can also bring ideas for Creative Projects like an art piece, a youtube series or a dance performance; or ideas for Strategic Giving like a volunteer day or fundraising event; or ideas for Advocacy like an awareness rally or outreach campaign. Any idea is welcome that helps drive positive social change!
I don't have an idea yet, can I participate? Yes! If you know you want to do something to make a difference for your community, on campus, in the city or for a certain social or environmental challenge, but you're not sure what yet, that's ok! Sign up and join us for the workshops to get some inspiration and support building out your idea.
Do we have to participate as a team? No, you may participate individually or as a team. If you choose to participate with others, there is no limit to the number of team members you may have.
Are there opportunities to collaborate with people from other UCs? Not officially, but you are welcome to invite anyone else to join you in the challenge as long as there is one eligible UCLA student on the team.
Do we have to have something to show? Nope! The challenge is for early-stage ideas, nothing needs to be developed in order to compete.
What do I get if I win? A cash prize totaling up to $2500 will be awarded to at least one and no more than two winners from each track. Winnings will be paid through student financial services, deposited into Bruin Direct Accounts.
Is the expectation for us to execute the idea at the end of the challenge? While we would love to see the ideas come to fruition, this is not a requirement. The challenge will provide you with foundational knowledge and tools for building social impact projects should you wish to execute your idea after the competition or any impact idea in the future.
Do we have to attend all the workshops? The workshops will help you prepare your proposal and pitch to be most competitive in the selection rounds, however, you are not required to attend in order to participate in the challenge.
Apply HERE. Questions? Watch the Info Session Replay or email rachael@college.ucla.edu.
---
---