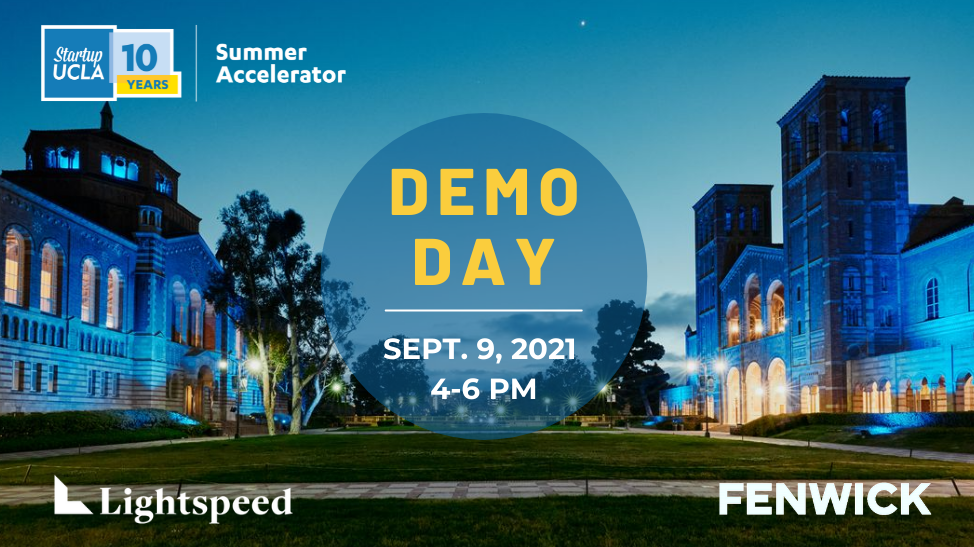 Startup UCLA 2021 Summer Accelerator Demo Day
Join us in celebrating the 10th Startup UCLA Summer Accelerator Demo Day!
About this event
After 10 weeks of intense preparation, Startup UCLA's 2021 Summer Accelerator teams will be showcasing their startups to Los Angeles and the surrounding community. Don't miss your chance to see UCLA entrepreneurs pitch their latest innovations at the 10th annual Summer Accelerator Demo Day!
Reserve your ticket on Eventbrite!
SUMMER ACCELERATOR 2021 STARTUPS
Banana Blades: Plastic mini skis that bring a new type of enjoyment to skiing.
Chances: A dating app with a search bar, that lets users express interest in someone they already know, rather than strangers.
Compined: An online chatting and community-building platform that's easy to use.
CrewLab: Rowing team tools that allow rowers to train smart, work together, and go fast.
Cure N Go: A 100% herbal dietary supplement made for hangovers.
Flowductive: An app that assists in personal daily planning and task management.
Hwalgi: A language learning platform aimed at serious learners of Korean.
Kindu TV: A home for elementary school teachers to find, share, and organize high quality education videos with no ads.
OYA Femtech Apparel: An athleisure brand obsessed with feminine health and changing the rules on how leggings work.
TradeUp: A platform that facilitates secure online item trades in the streetwear, hypewear, and luxury goods markets.
---
---