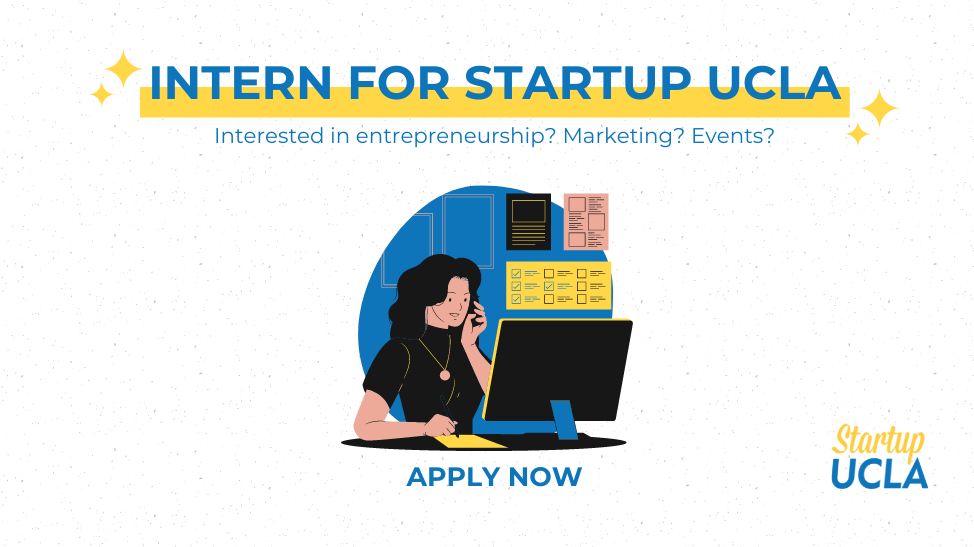 Startup UCLA Data/Website & Social Media Marketing Interns
Startup UCLA is hiring 1-2 paid student interns to assist with our programs: Blackstone LaunchPad, Bruin Impact, Faculty Innovation Fellows, & Summer Accelerator.
We are looking for UCLA undergraduate students who are interested in entrepreneurship, marketing, and events, are comfortable working in a startup environment, and have some flexibility with schedule. Interns will work approximately 10+ hours per week and will be expected to be both team players and independent workers, manage multiple projects, and have great communication skills.
Data/Website Intern: will update website with event and news content, collect and analyze data, and support launch of new community platform. Ideal candidates will have familiarity with Airtable, Excel, Google Docs/Drive, and Slack, and have experience with data analytics and website creation/design/updates.
 
Social Media Marketing Intern: will analyze data from social media campaign performance, strategize and implement best practices for digital marketing, create social media posts and our email newsletter, and more. Ideal candidates will have graphic design experience, understand how to use Canva/Photoshop, have experience on social media platforms, and have excellent writing skills.
As UCLA transitions to on-campus activities this year, interns will be working primarily in-person at Covel Commons, Room 203 (one evening shift and one afternoon shift a week is required). Reception and monitoring space usage by students/student groups during evening and afternoon shift will be required. Tabling at events on campus will be required.
To apply: send your resume, a brief paragraph on why you want to work with Startup UCLA, fall school schedule, your availability to work (noting that 1 evening and 1 afternoon must be available at minimum) to startup@college.ucla.edu with the subject line "Startup UCLA Fall 2021 Intern" ASAP.
---
---